Product Description
The EVERMORE 12 YEAR above-ground winter cover is the BEST cover for your pool! This Kit includes everything you need to close your pool. This will be the last cover you'll ever buy. Made of three layers. The top layer is U.V. protected to last for years in direct sunlight eliminating deterioration. The center layer is 12 X 12 woven polyethylene to ensure maximum tensile strength and durabiity. The black underside retards algae growth and means a Crystal Clear pool next spring! The EVERMORE cover has a 4' overlap for ease of installation.
The EVERMORE 12 YEAR above-ground winter cover includes everything you'll need to winterize you pool: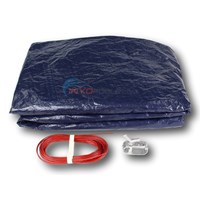 #1 The EVERMORE Cover Has A 12 YEAR Warranty
#2 CABLE SYSTEM featuring high-test vinyl-coated cable and winch
#3 Cover CLIPS to eliminate wind getting under the installed cover. (2 per top ledge)
#4 4' X 5' AIR PILLOW to equalize the water the accumulates on the cover
#5 GIZZMO that screws into and protects your skimmer from ice damage thru the winter
#6 Plug to seal the return fitting
FREE SHIPPING !!!! Usually ships within 1 Business day.
Add an optional WINTER CHEMICAL KIT and you'll have everything you need to completely PROTECT your pool and enjoy a CLEAR pool in the spring!!
OPTIONAL 15K Winter Chemical Kit ($19.95) Includes:
1lb Non-chlorine shock oxidizer treatment
(1) 1lb Winterizing Powder
(1) Quart Winter Stain & Scale
FREE SHIPPING
Other Details
FIFTEEN YEAR – COVER WARRANTY – SILVER KING Swimline Corporation warrants this cover to be free of defects in workmanship. Examine your cover carefully before installing. Handle your cover carefully during inspection and installation, as the Manufacturer is not responsible for tears or punctures caused by improper handling. Swimline Corporation pool covers are warranted free of defects for a per of fifteen (15) seasons from date of purchase on a pro-rata basis, based on the Manufacturers suggested retail price, each season to end on April 31. Replacement under these warranties is as follows: FIRST SEASON No Charge SECOND SEASON No Charge THIRD SEASON 40% FOURTH SEASON 75% FIFTH SEASON 85% SIXTH SEASON 90% SEVENTH THROUGH FIFTEENTH SEASON 95% Any return of merchandise under the terms of the warranty must be authorized in advance, and returned freight prepaid. Contact us directly at the following address: Swimline 191 Rodeo Drive Edgewood, NY 11717 631-254-2155 x135 info@swimlinecorp.com www.swimline.com It is expressly agreed that there are no warranties expressed or implied made by the Dealer or Swimline Corporation except as stated above. Swimline Corporation will not be responsible for any labor charges, cost of loss of water or chemicals, or any other damages that may occur there from. ALL COVERS SHOULD BE RETURNED DIRECTLY TO SWIMLINE CORPORATION.
Product Videos
Custom Field
Product Reviews